"Because the history of evolution is that life escapes all barriers. Life breaks free. Life expands to new territories. Painfully, perhaps even dangerously. But life finds a way." -Michael Crichton, Jurassic Park
The Collared Lizard, a facultative biped like early dinosaur ancestors
Jurassic Park has long been a favorite of mine, both the books and the movies. Dinosaurs perhaps first sparked my fascination with the natural world. With the revival of the franchise in the new
Jurassic World
, a couple thoughts have been floating around in my head regarding how dinosaurs relate to desert ecology. I think a few connections and parallels can be drawn between dinosaurs (or plot points in
Jurassic Park
) and modern day reptiles native to the North American Deserts.
One of the most fascinating aspects of reptile biology to me is the evolutionary history of this group, which includes birds, crocodiles, snakes, lizards, and a few other weird and lesser known groups. While many focus on the events that led up to the extinction of dinosaurs (cough*
dinosaurs aren't actually extinct
), I believe that the evolutionary origins of dinosaurs are far more interesting and far more mysterious.
One of the close relatives of the ancestral archosaurs (the group which included dinosaurs, birds, and crocodiles) was a small reptile called
Euparkeria
. This reptile had hind limbs which were slightly longer than its forelimbs, meaning that this animal likely exhibited some form of bipedalism (runs on two legs) at times. Bipedalism is a characteristic that is typical for the identification of the major dinosaur group which gave rise to modern birds.
For some reason I can't help but see
Euparkeria
and other early dinosaur ancestors whenever I see a Collared Lizard sprint on its hind legs after its prey, which will often be other lizards. Though this connection is admittedly superficial, its fun to imagine. Evolution has once again shaped a reptile that is facultatively bipedal and superficially resembles certain dinosaur ancestors.
Crotaphytus collaris, note the muscular hind limbs and short forelimbs
Another important plot point in the original Jurassic Park books and movies is the idea that a population composed entirely of female dinosaurs is able to successfully reproduce once they escape from their enclosures. In order to make this plausible Michael Crichton and Steven Spielberg invoke that genetic material from frogs were used in the cloning of the dinosaurs, and that some frogs are able to spontaneously change sexes from female to male.
Certain desert lizards have been able to long maintain viable, reproductive populations in the wild when all individuals are in fact female. No spontaneous sex change is necessary. In fact this trait, the ability to go through "parthenogenesis" or self cloning, is not uncommon among reptiles, and is the norm for many species of Whiptail Lizard.
Parthenogenesis has been documented in many species of reptile including Komodo Dragons, Pythons, and Geckos. It seems that many reptiles have the ability to reproduce in this matter, but that it hasn't yet caught on in the same way it has with Whiptail Lizards.
So the idea that a population composed entirely of female reptiles is able to reproduce successfully is perhaps the least far-fetched biological plot point of the Jurassic Park series. However, you don't need to invoke sex changing frogs to get there, diverse groups have reptiles have often been able to reproduce asexually under the right conditions. Could certain dinosaurs too have been able to reproduce asexually like our native Whiptails?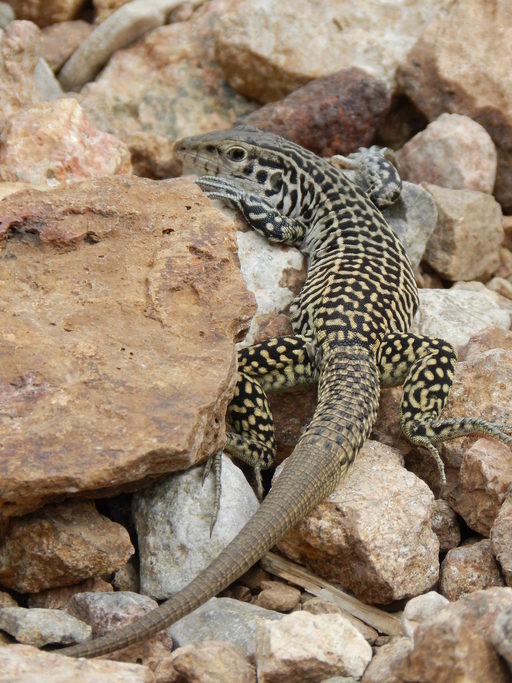 The Checkered Whiptail, Aspidocelis tesselata
Photo by Vicente Mata-Silva, no changes made, https://creativecommons.org/licenses/by/3.0/legalcode
References and further reading:
Snyder, Richard C. "Adaptations for bipedal locomotion of lizards."
American Zoologist
(1962): 191-203.
Maslin, T. Paul. "Conclusive Evidence of Parthenogenesis in Three Species of Cnemidophorus (Teiidae)." Copeia 1971.1 (1971)
PRICE, ANDREW HOYT. "THE ECOLOGY AND EVOLUTIONARY IMPLICATIONS OF COMPETITION AND PARTHENOGENESIS IN CNEMIDOPHORUS (UNITED STATES, MEXICO)." ProQuest, UMI Dissertations Publishing, 1986.
Price, Andrew H. "Comparative behavior in lizards of the genus Cnemidophorus (Teiidae), with comments on the evolution of parthenogenesis in reptiles."
Copeia
(1992): 323-331.